Joined

26 Mar 2012
Messages

1,838
Reaction score

1,483
A new Google Play Store v3.8.15 apk started rolling out to Android devices today, but upon running through its UI, I was unable to uncover anything different from the versions before that. Yet the apk size gained a few pounds kilobytes, and not knowing what the 300KB of code and resources added was killing me. Not to worry, a few minutes later, I decoded both 3.7.15 and 3.8.15 and compared their contents.
Play Store Gift Cards
What I found inarguably points to Google gearing up to finally release redeemable Play Store gift cards - something we've been anxiously waiting for since the Android Market started supporting paid apps. Earlier this year, Google renewed our hopes by adding the ability to have a Play Store balance for those who purchase a Nexus 7. This put us one step closer to gift cards, but there was still nothing concrete. What I have here today is more than concrete - it's solid evidence.
One additional interesting detail regarding gift cards popped up in the code - the Play Store is now set to intercept links to play.google.com/redeem, which currently returns a "404 page not found" error.
Mathias Tillman was able to get a screenshot of the Redeem Activity by compiling a hacked apk.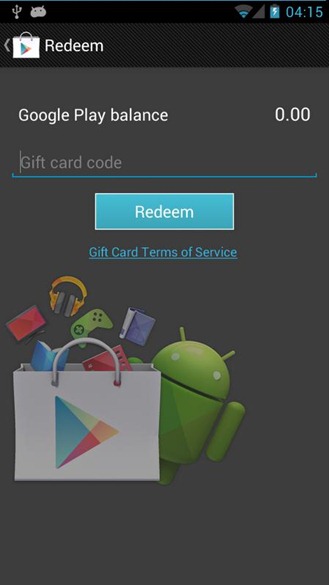 Shen Ye used Mathias' apk to get a few more showing the wishlist and the new menu.Check them all out below.
Wishlist

In addition to adding the ability to redeem Play Store gift cards, Google is going to add a wishlist where you can add apps, books, TV shows, movies, music, and magazines. I'm not sure what exactly the point of this wishlist would be (maybe later it can turn into a cart), but presumably you'll be able to add the aforementioned types of content into a list and then buy later, perhaps after redeeming a gift card (this would explain why the two features are being added together).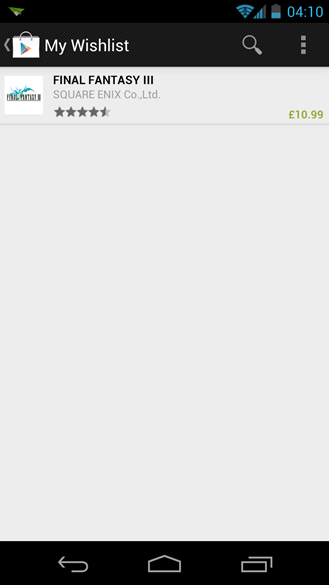 Source