Joined

26 May 2011
Messages

1,087
Reaction score

31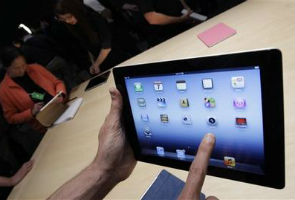 Apple is making it easier for people who buy movies through iTunes to play them on the various devices they own.
Apple said Wednesday that customers can now save some movies on its iCloud remote storage service. That system lets devices such as the iPad and the iPhone retrieve content wirelessly. Before, if you bought a movie on one device to play on another, you needed to connect both to a personal computer with a physical cord. ICloud does away with that.
The change also means people will be able to watch purchased movies on an improved Apple TV set-top box going on sale next week.
That development should allay frustration consumers have had with digital purchases of movies, which could be bought on iPads and iPhones, but couldn't be stored on the Apple TV device because it has no hard drive. Apple TV owners had been limited to renting movies until now.
"ICloud now supports movies, starting today," Apple CEO Tim Cook said at a packed presentation in San Francisco.
Previously, Apple's iCloud saved only users' songs, photos and documents on its computer servers.
Apple's head of Internet services, Eddy Cue, demonstrated how the movie system would work using a new Apple TV set-top box. The device will now be able to play movies in the "1080p" format, the highest-resolution video standard in common use. Previously, Apple TV could only play back movies in "720p."
The small box, which comes with a remote, will still cost $99. The upgraded version will go on sale next week. The box will continue to offer online movie streaming services that require monthly subscriptions such as Netflix. On Wednesday, Netflix Inc. said customers will be able to sign up for its service directly from an Apple TV box and pay for it through an iTunes account.
Movies from Sony Corp. and the Walt Disney Co. will work on iCloud.
But those from Comcast Corp.'s Universal Pictures and News Corp.'s 20th Century Fox won't initially be available because of existing deals with Time Warner Inc.'s premium pay TV channel, HBO.
HBO's policy is to prevent studios from selling movies on iTunes when the movies are playing on its service, which usually begins within a year of their theatrical release. Consumers who buy movies before they start playing on HBO will be allowed to access them through iCloud.
HBO made an exception for sister company Warner Bros. to participate in iCloud in this way, and it will likely do the same for Universal and Fox, said HBO spokesman Jeff Cusson. (Warner Bros. declined comment.)
"Like with any other technological enhancement, we've always been able to find common ground with our studio partners and I'm sure we'll have the same result here," Cusson said.
The announcement comes about a week before five Hollywood studios including Sony, Warner Bros. and Fox are to announce that Wal-Mart Stores Inc. will become a partner for an alternative standard of saving movie purchases online called UltraViolet.
Studios are trying boost digital purchases of movies as DVD sales continue to slip. Hollywood believes that digital sales will only increase rapidly if it gives consumers a way to access their purchases on multiple devices easily. For now, Apple's iCloud and the studios' UltraViolet will not be compatible with each other.
The movie announcement came at an Apple event where Cook also revealed a new iPad that has higher screen resolution than the previous model and can work on faster 4G cellular networks.
(c) NDTV