Introducing the DigitalStorm Enix
Just recently we had a chance to lay hands on SilverStone's FT03 enclosure, and it was impressive enough to earn a Bronze Editors' Choice award. It wasn't the quietest case we've ever reviewed, but it had strong thermal qualities and a slick-looking design. Now DigitalStorm has taken SilverStone's eye-catching little number, custom-painted the grills, and turned it into a double-shoebox-sized monster. The Enix we're looking at today boasts the highest overclock on an Intel Core i7-2600K we've yet seen and pairs it with not one but two EVGA GeForce GTX 580's.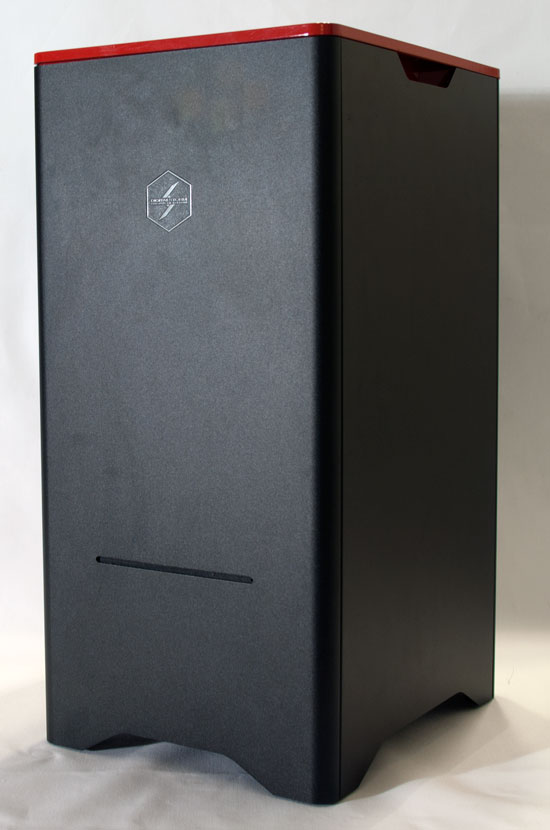 The red trim and black shell do a lot of favors for SilverStone's FT03 enclosure, but we're really interested in how well the Enix sings. Our last visit with DigitalStorm was a mixed one: the BlackOps Assassin we reviewed was a performance demon to be sure, but we were a bit turned off by some of the component choices coupled with the price tag. When we received the press release for the Enix, it was just too good to resist, and DigitalStorm was game to send us one. So how much power is crammed into this little box?
We start out with both the DigitalStorm Enix's curse and its saving grace: a heavily souped-up Intel Core i7-2600K water-cooled using Corsair's H70 kit (a testament to both the kit's performance and the FT03's surprisingly roomy interior). DigitalStorm has overclocked the i7-2600K to a screaming 4.7GHz, making it not only the fastest processor we've ever tested in a boutique system but also among the most power hungry as you'll see later.
As if to reassure everyone that splitting the i7-2600K's sixteen PCI-Express 2.0 lanes between two cards isn't really a big deal, DigitalStorm has packed the Enix with two EVGA GeForce GTX 580s running at stock speeds in SLI. If every single frame matters to you, then the P67 chipset and inherent limitations of using the processor's PCIe lanes may put you off, but between the variability in performance of running a multi-GPU setup and the absurdly high performance of two GTX 580s in SLI paired with an overclocked i7-2600K, it's hard for anyone to reasonably take issue.
Based on our last experience with DigitalStorm, they've also opted to use a higher-end name-brand memory kit and power supply. This was a source of some contention in the comments of that review, where some readers argued that if the memory works, it works, and there's no need to ding the vendor for using cheaper stuff. That's true, but at the same time, if I'm paying over $3,000 for a desktop I'm going to want parts from vendors that have a history of reliability, and there's something miserly about putting discount memory in a premium gaming machine.
To round out the system, DigitalStorm bumped the slot-loading optical drive up to a Blu-ray reader/DVD-writer, added the requisite 1TB Western Digital Caviar Black, and then chose to employ the new Corsair Performance 3 SSD.
All told, the Enix looks to be, at least on paper, the fastest system we've ever tested (a dubious honor when a new contender is always just around the corner). Ready to break some of our system benchmark records?
more..