Options to activate STVs for BSNL Mobile Recharge Discounts

1.Sending SMS
: You can do it by just sending an 
SMS to 123
, then you will get an activation SMS instantaneously. It can use for a new subscription or renewal of the special pack.
2.USSD Code
: Dial the code from your mobile as 
*124#
 and your will the options. Subscribe with your required special tariff voucher to activate.
3.Selfcare Portal
: Login to the 
BSNL Mobile Selfcare Portal with OTP
 and subscribe for your required STVs and get your new BSNL recharge discount.
How to use BSNL Mobile Selfcare Portal
Enter your ten digit BSNL prepaid mobile number and click on Get OTP. Immediately, you will receive a one-time password (OTP) password to your mobile number which enters for enhanced security to proceed further login at BSNL Mobile Selfcare portal.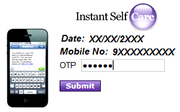 Insert that OTP and Click on Submit. Then you just logged into your BSNL Mobile Selfcare portal account. If you didn't receive any OTP within 120 seconds of request time, then resend OTP option will get highlighted, then you will ask for another OTP also. After logged into the account, you will get the all options in your BSNL Mobile Selfcare portal account applicable only to your number.
BSNL Mobile Selfcare portal for prepaid users zone wise

1.BSNL prepaid mobile users of AP, Telangana, Chennai, Karnataka, Kerala, and Tamilnadu, just log on to South Zone BSNL Mobile Selfcare portal. 
here portal link 
Login
2.The prepaid mobile users of Haryana, Punjab, UP West, UP East, Himachal Pradesh, Rajasthan can log in for North Zone site. 
here portal link 
Login
3.Customers of Kolkata, Orissa, Bihar, West Bengal, Adman Nicobar, Assam, Jharkhand, North East – I & II can log into East Zone portal. 
here portal link Login
4.Prepaid users of Maharashtra, Madhya Pradesh, Chattisgarh, Gujarat can log on to West Zone to access prepaid services at web portal. 
here portal link Login