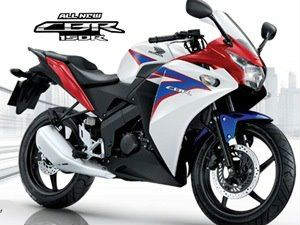 Honda Motorcycles and Scooters India (HMSI) will soon launch the CBR 150r in India with a mouth watering price tag. The Japanese company is clearly aiming at the Yamaha R15, India's best selling sport bike. The CBR 150R's price is expected to be Rs.1.15 lakhs.

This price will mean the CBR 150R is priced a little over the Yamaha R15 but is cheaper than the KTM Duke 200. Honda Motorcycle and Scooters has been selling the bigger CBR 250R since a year and the launch of the CBR 150R will mark the completion of one year.

The March 2012 launch of the CBR 15oR has been confirmed by Naresh Rattan, vice-president, sales and marketing, HMSI. He also said the company had already begun production of the new bike in the middle of February. The company is expecting to sell more than 3,500 units of the CBR 150R per month. While Yamaha is currently selling about 3,000 units of the R15.

The CBR 150R is powered bu a 150vv fuel injected engine that can generate a peak power of 18PS and torque of 12.6Nm. Mated to a six speed manual gearbox, the CBR 150R can deliver top notch performance. The smaller CBR can only be distinguished with its bigger brother through its smaller exhaust muffler.

Honda is confident its new bike can trump its competitors with its looks, price and comfort. The CBR 150R will be a bike that will offer a comfortable ride thanks to its relaxing riding position. More over its has a more practical rear seat than the heightened one used in the R15. It is a known fact that the R15 has been tuned to perform well on the track. The CBR on the other hand is comfortable on the track as well as regular road conditions.
News from: http://www.drivespark.com/two-wheelers/2012/20-honda-cbr-150r-launch-price-details.html