The Virus razed Humans, raised Humanity💪
Staff member
Administrator
Joined

6 May 2012
Messages

4,650
Solutions

1
Reaction score

7,423
Every day, millions of people around the world are able to see the faces and hear the voices of loved ones thousands of miles away, thanks to online video chat services. These services have revolutionized the way we work, play, and hang out with friends.
In today's Chrome Beta release, it's now possible for you to grant web apps access to your camera and microphone right within the browser, without a plug-in.
This is thanks to the
getUserMedia API
, which is the first big step for
WebRTC
, a new real-time communications standard that aims to allow high-quality video and audio communication on the web.
The getUserMedia API also allows sites to create cool new experiences that weren't previously possible in the browser. For example, Romuald Quantin and Magnus Dahlstrand at
Stinkdigital have created a Magic Xylophone
that you can play just by waving your hands in front of the camera.
Paul Neave has also made a beautiful photo booth app called Webcam Toy.
It has dozens of crazy effects to explore--my favorites are "Snow" and "Fire." Check out the Chromium blog to learn more about getUserMedia and follow WebRTC on Google+ for new discussions and demos.
Today's Beta release also brings a new and improved printing experience for Google Cloud Print.
Now your printers in Google Cloud Print are integrated right into Chrome's print dialog, so you can
easily print to your Cloud Ready printer, Google Drive, Chrome on your mobile device, or one of over 1,800 FedEx Offices.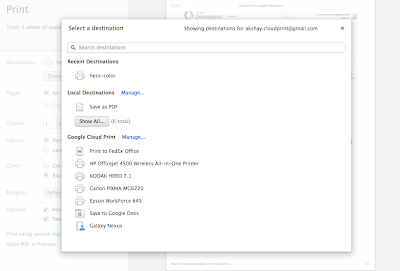 To play with these new toys, just
download Chrome Beta.
Source: Chrome Blog