JioSaavn Pro subscription required to set JioTunes now
Estimated reading time: 1 minute, 19 seconds
Reliance Jio seems on the verge of making the setting of caller tunes a paid service with its JioSaavn app now asking Jio customers to buy Pro version of the music streaming app to set unlimited JioTunes at Rs 99 per month.
The change was noticed by our community forum member DJ Roy who while trying to change the JioTune through JioSaavn app came upon the findings. OnlyTech was able to spot the notice on another device as well wherein the same notice popped up. Both notably, are JioPrime customers.
When we tried on another Jio number, wherein JioTune was never set until today, JioSaavn allowed the initial caller tune to be set. However, when the second caller tune was attempted to be set, the app showed a notice wherein it said that limit of 1 free JioTunes per month had been reached.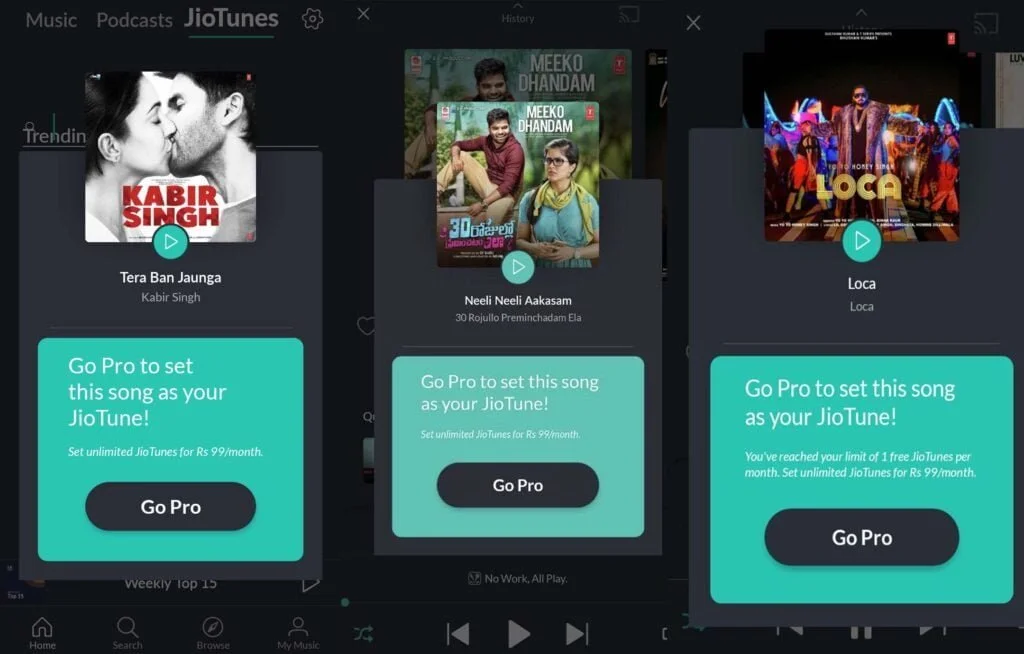 The finer details on the move are currently not available, but it is clear that Jio could force subscription to JioSaavn Pro for the setting of unlimited JioTunes. If indeed this happens, the same would be a very disappointing move.
Caller Tune is a network-level Value Added Service and Jio should not at any cost force the subscriber to a music streaming app for caller tune. Subscribing to a Rs 99 monthly subscription is useless when JioSaavn doesn't provide licensed by other music streaming platforms to set as JioTune.
Reliance should instead provide Caller Tune VAS packs similar to Vodafone Idea with that same without boundaries and not limited to JioSaavn. The linking of Caller Tune to a music streaming subscription is nothing a disappointing move.