The Virus razed Humans, raised Humanity💪
Staff member
Administrator
Joined

6 May 2012
Messages

4,656
Solutions

1
Reaction score

7,438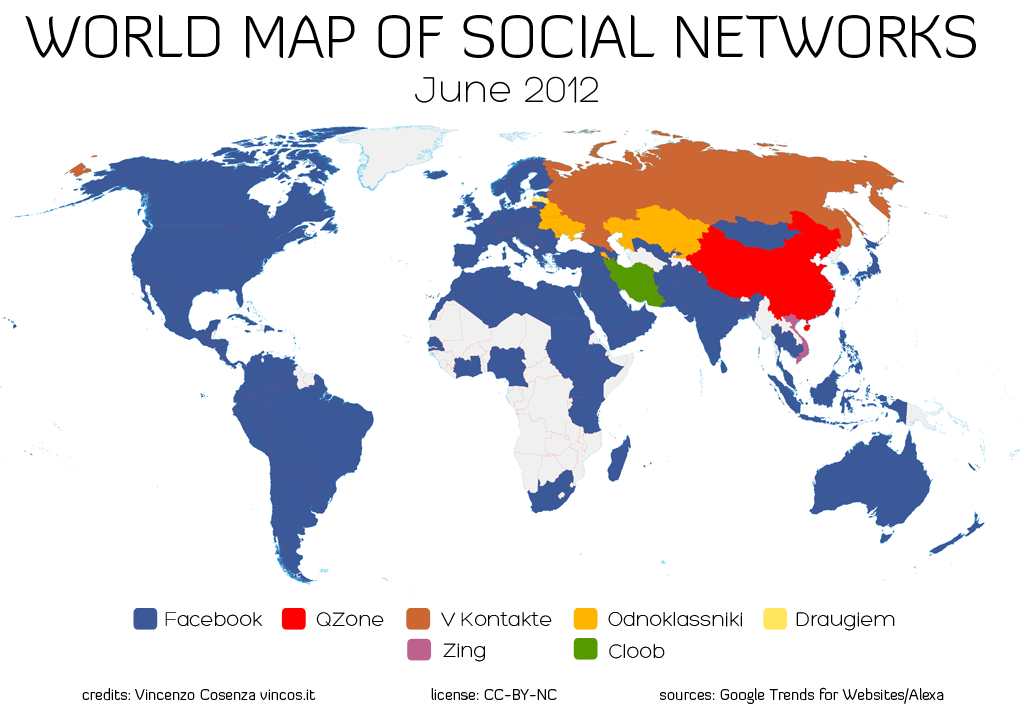 Twice a year (in June and in December), social media strategist Vincenzo Cosenza updates his 'world map of social networks', in which he shows what the most popular social network is in now 137 countries worldwide – at least according to a combination of Alexa and Google Trends for Websites traffic data.
The edition for June 2012 was published by Cosenza earlier this afternoon, and it shows just how dominant Facebook has become in almost all of the world.
Funny caveat: Google+ stats are not displayed by Google Trends for Websites.
According to the traffic data examined by Cosenza, Facebook is numero uno in 126 out of the 137 countries that were analyzed. Europe is the largest continent on Facebook with 232 million users, while North America has 222 million and the whole of Asia boasts 219 million users (source: Facebook Ads Platform).
It's only when you look at this animated gif that shows how the map colors have changed over the years that you get a sense of how Facebook steamrolled its competitors in most countries around the world.
The hold-outs aren't a huge surprise, but for the record:
- VKontakte and Odnoklassniki remain strong in Russian-speaking countries
- Tencent's QZone is still king of the hill in China
- Vietnam's most popular social network is Zing
- People in Iran seemingly prefer Cloob over Facebook
- Drauglem is the top dog in Latvia
And here's a table that shows who is the second most dominant social networks in various European countries, the United States, Brazil, China, India, Russia, the United Kingdom, Australia, Canada and Japan. Looks like LinkedIn, Badoo and Twitter are currently duking it out for the #2 spot, with only a few exceptions.
Via TheNextWeb