Joined

26 May 2011
Messages

1,087
Reaction score

31
Windows first smartphone with 12 megapixel by HTC, What appears to be a 12-megapixel HTC smartphone running Windows Phone has been caught in the wild, lending weight to rumors that the company is looking to high-resolution cameras to further differentiate its future handsets. Shared by arch-insider Eldar Murtazin, the unknown phone – which resembles an HTC Trophy – is shown set to take 12MP 4000 x 3000 images in the camera app.
Nokia already released 12 megapixel in the market called Nokia N8.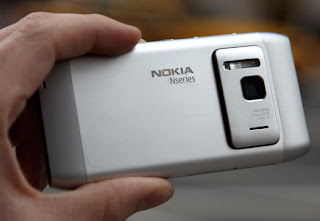 It also cranks up the pressure on Nokia, which had planned to use its high-quality optics as a differentiating factor between it and other Windows Phone OEMs. There's more to picture quality than a high-megapixel sensor, of course, but with many consumers buying based more on spec sheets than anything else, HTC's grab at high resolutions could well help keep it ahead of the pack.
He tweeted that the phone supports RAW format. These are the adjustable settings that it offers:
Photo Resolution
Brightness
Contrast
Anti-Banding
Focus
Exposure Metering Mode
Exposure Compensation
RAW Capture
Complete Specification, Feature , Price and release date yet to be announced.
http://gizmopoint.blogspot.com/2011/05/htc-windows-phone-7-12-megapixel.html