All microprocessor companies struggle with the same basic marketing problem: how do you explain to the average consumer why one part is faster than another without saying cache, GHz or cores. Intel and AMD have been using model numbers to abstract hardware differences for years. Today Qualcomm is announcing its own attempt at the same.
Snapdragon will continue to refer to Qualcomm's family of high performance apps processors. Although in the past we've known them by relatively obscure seven character model numbers (e.g. MSM8660), going forward these SoCs are going to be grouped into one of four categories: S1, S2, S3 and S4.
The rules are pretty simple. Bigger numbers mean better SoCs, smaller numbers mean cheaper/lower power. The full name will be something like Snapdragon S1 Mobile Processor, although it's unclear whether or not we'll see a model number attached to the end of that.
The S stands for System and the breakdown of specs is in the slide below:
The Snapdragon S1 is the mainstream 65nm SoC we've been seeing for the past year and a half: single core, Adreno 200 GPU, not a lot of fun but great for free/value phones. The S2 is the 45nm Snapdragon used in modern single-core Android smartphones. The S3 and S4 are the most interesting. The former encompasses Qualcomm's move to dual-core SoCs, while the latter uses its next-generation Krait microarchitecture.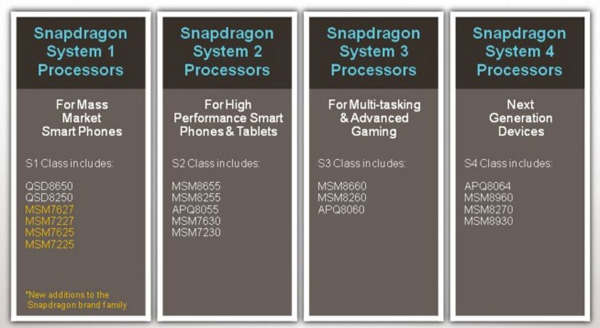 Although S1 - S3 SoCs are available today, Qualcomm won't be shipping Snapdragon S4 processors until the end of 2011. Devices built around Snapdragon S4 processors will appear in 2012.
The branding change makes sense for Qualcomm. Prior to the S1 - S4 naming you either had people calling everything a Snapdragon or had to worry about explaining the difference between an APQ8060 and MSM8660. The new branding helps segment things a bit although I do believe Qualcomm will need to follow AMD/Intel's lead and introduce some sort of a model number to indicate performance differences between parts within a family.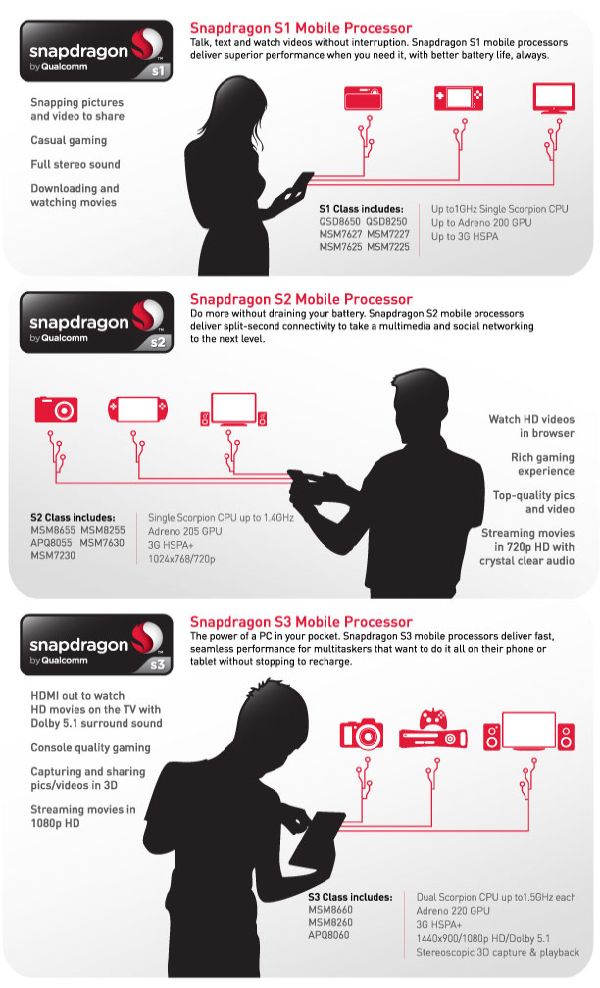 more...