Google on Thursday introduced video chatting capabilities to Android phones, akin to Face Time on Apple iOS devices, as part of version 2.3.4 of the mobile operating system. Other Android apps already offer video chatting capabilities, but Google has built the feature into the OS and also allows interoperability between Android phones and tablets and computers.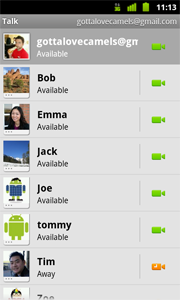 The video chatting feature has been integrated into the Google Talk application, and unlike Apple's Face Time, works over Wi-Fi and 3G/4G (as long as your carrier and data contract allows you).
A video or voice chat button will appear in the Google Talk friends list next to your contacts. While video chatting, any text chats from that person will also appear overlaid on the video. When switching to a different application while video chatting, video will be paused while audio will continue to run in the background.
Users of the Nexus S smartphone (built by Samsung for Google) are the first ones to receive the feature, as part of a new version of Android (2.3.4). Other Android 2.3 devices will receive the update incrementally (read slow), as usual, over the air.