Airtel adds more wireless subscribers than Jio in August 2020: TRAI Report
Estimated reading time: 2 minutes, 27 seconds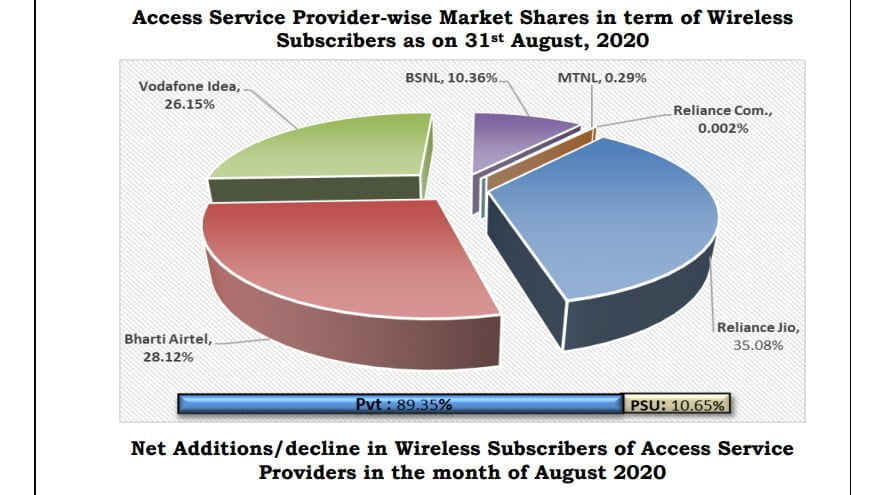 Highlights
Bharti Airtel leads with 2.8 million new wireless subscriber additions
Reliance Jio leads with 1.6  lakh new wireline subscriber additions
Tikona Infinet replaces MTNL as 5th largest wireless broadband network
The sixth month of lockdown saw the restoration of the upward trajectory of the addition of new subscribers with 3 out of the 4 wireless carriers showing healthy subscriber additions while Vi continued to be plagued with subscriber losses. Interestingly Jio's net additions are lower in comparison to previous months but its VLR percentage has increased marginally indicating that it has started to deactivate inactive numbers after having crossed the 400 million mark in July.
The overall wireless subscriber base increased marginally by 3.74 million from 1144.18 million at the end of July to 1147.92 million at the end of August 2020. The overall wireless teledensity also grew marginally by 0.69% from 133.64% at the end of July to 134.33% at the end of August 2020.
As of 31st July, 2020 Reliance Jio is leading with 35.08% wireless subscriber market share which translates to 402.67 million subscribers, Bharti Airtel is at second position with 28.12% market share (322.83 million subscribers), whereas Vodafone Idea comes third with 26.15% market share (300.15 million subscribers). BSNL commands 10.36% (118.91 million) while MTNL commands just 0.29% market share (3.34 million).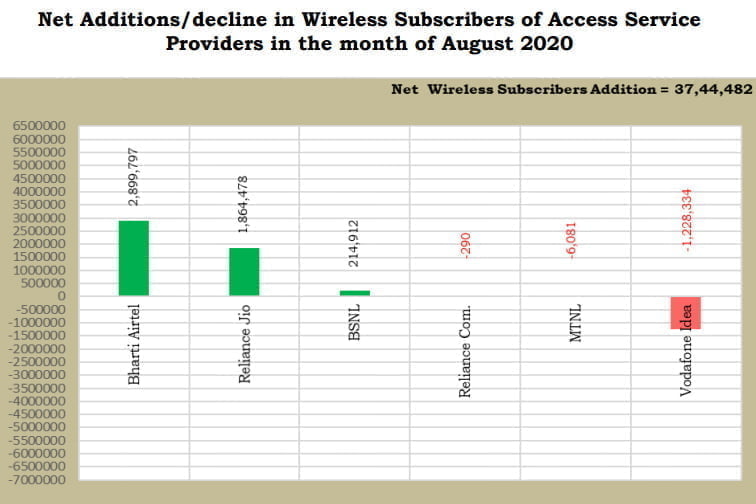 Wireless Subscriber Gain/Loss in August:
Bharti Airtel led the new wireless subscriber addition race in August 2020 with 2.8 million net additions, Reliance Jio was close on its heels with 1.8 million net adds, while BSNL added 0.21 million new wireless subscribers. Vodafone Idea lost over 1.2 million subscribers in August while MTNL lost over 6 thousand.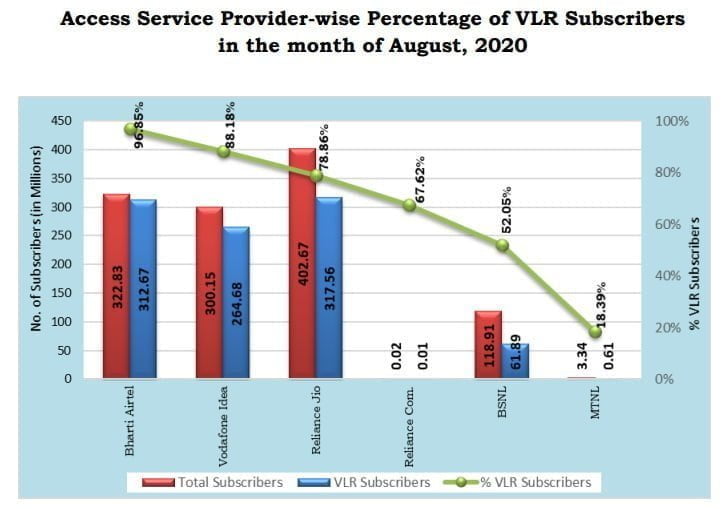 Active subscriber base, VLR data:
Visitor location register (VLR) is an indicator of what percentage of the total subscriber base is comprised of active users. Bharti Airtel leads the race with a VLR score of over 96% which implies it has the lowest inactive user base of 10.16 million, it is followed by Vodafone Idea with a score of 88% (inactive user base 35.47 million). Reliance Jio has a VLR score of over 78% (inactive user base 85.11 million) whereas BSNL lags behind with a score of 52% (inactive user base 57 million).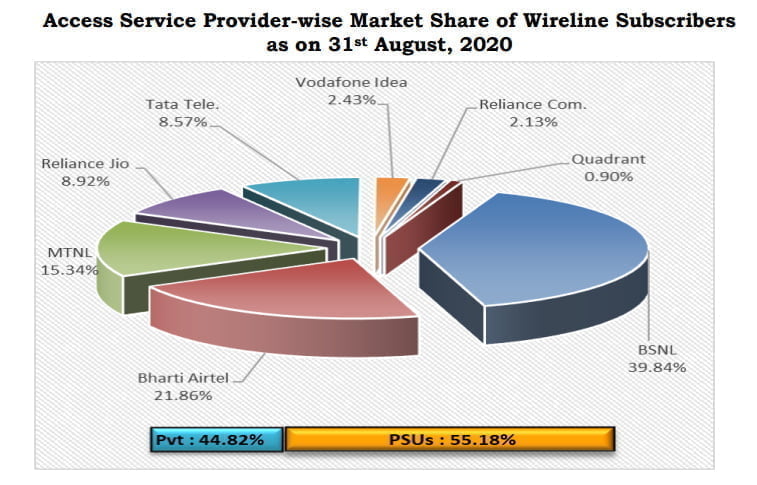 BSNL continues to lead with 39.84% share of the wireline subscriber market share in August 2020, which translates to 7.92 million subscribers. Bharti Airtel commands 21.86% share (4.34 million subscribers). MTNL follows with 15.34% share (3.05 million subscribers). Reliance Jio holds 8.92% share (1.77 million subscribers). Vodafone Idea holds only 2.43% share (0.48 million subscribers).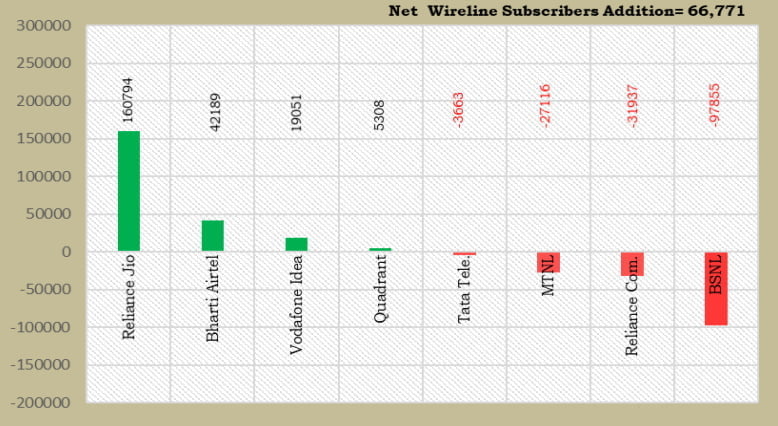 Wireline Subscriber Gain/Loss in August:
Reliance Jio added over 1.6 lakh new wireline connections in August 2020, followed by Bharti Airtel who added over 42 thousand new connections. Vodafone Idea added over 19 thousand new wireline connections whereas MTNL lost over 27 thousand. BSNL continued the trend of losing subscribers with the loss of over 97 thousand connections in August.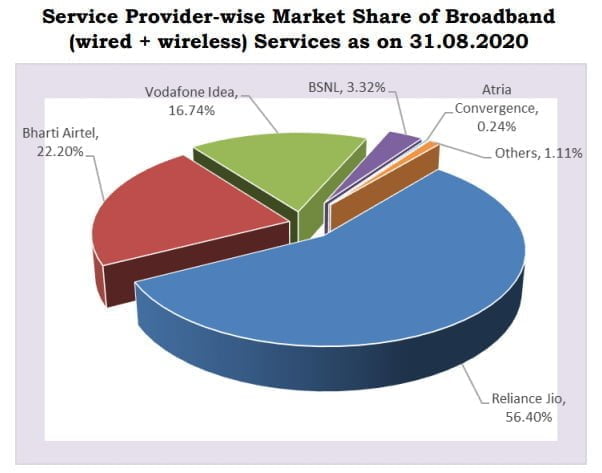 Broadband is considered when the speed offered is higher than 512 Kbps irrespective of it being a wired or wireless connection. As on 31st August 2020, the top five Wired Broadband Service providers by subscriber base were BSNL (7.85 million), Bharti Airtel (2.53 million), Atria Convergence Technologies (1.70 million), Reliance Jio Infocom Ltd (1.25 million) and Hathway Cable & Datacom (1.03 million). The top five Wireless Broadband Service providers were Reliance Jio Infocom Ltd (402.67 million), Bharti Airtel (156.45 million), Vodafone Idea (119.91 million), BSNL (15.90 million) and Tikona Infinet (0.31 million).